HOME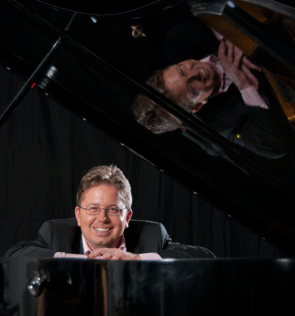 Péter Köcsky was born in Hungary. He had his first piano lesson at the age of 8 and two years later he gave his first individual piano concert.
At the age of 12, he was accepted at the preparatory faculty of the Franz Liszt Musical Academy in Budapest. Since then he has been performing regularly throughout Europe.
Besides several radio and television recordings, his most memorable concerts were given in honour of Queen Sofia in the 'Palacio Real de el Pardo' and in the 'Auditorio Nacional de Música', both in Madrid.
He graduated with excellent results after studying among others with Zoltán Tényi, György Nádor, László Bihary, András Hamary, Márta Gulyás, Dimitri Bashkirov and Pierre-Laurent Aimard. Ha also participated in the master course of Carl Ulrich Schnabel, Claude Frank, Rosalyn Tureck, Bruno Gelbert, José Maria Colom and Ferenc Rados.
He won prizes at the following competitions : "Richard Laugs Beethoven Competiton", "Franz Liszt Competition Budapest", "Cittá di Senigallia" in Italy, "Usti nad Labem" in Czech Republic, "Andor Földes" and "Nyíregyháza" in Ungarn.
At present, he is the pianist of the Beethoven House in Bonn, Germany, even having performed in 2012 for the President of Germany. Additionally to being an active concert pianist, with numerous participations in both solo and chamber concerts, Péter Köcsky is also teaching at the University of Musik in Osnabrück.
---
Péter Köcsky | Pianist
Copyright © 2010 - all rights reserved |
Sitemap